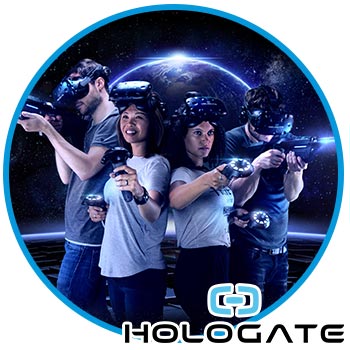 HOLOGATE VIRTUAL REALITY
You and your friends will embark on an exhilarating adventure in a new dimension filled with wonder and joy. Just put on the HOLOGATE headsets and all of you will be transported into our immersive world of Virtual Reality where you'll fight robots, zombies and dragons, or even challenge each other with virtual snowballs! Our exclusive multiplayer games are easy to learn and hard to master. Play together as a team or challenge your friends to a player vs. player competitive match.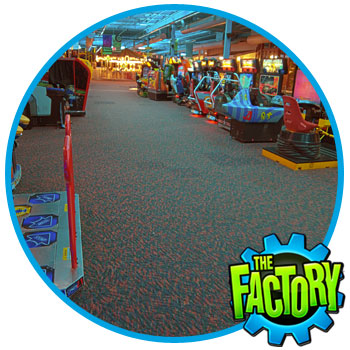 ARCADE GAMES
With over 100 arcade games, there's sure to be something for you at The Factory! Whether you like shooting, driving, rolling, dancing, trivia or jamming on the guitar, our fully stocked arcade section will Crank Up Your Fun.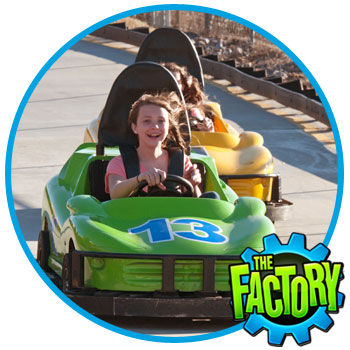 GO KARTS
The Factory has the largest go-cart track in Western North Carolina – it's 2 stories tall! Come on in and test out your driving skills and Crank Up Your Fun. The Factory offers both single and two-seater carts for those little racers too short to drive on their own.
You must be 58″ tall to drive alone
You must be 36″ tall to ride
Sandals/flip-flops prohibited Closed-toed shoes only
If you are between 36″ and 56″ tall, you must ride with a licensed adult 18+ years old
You must be a licensed adult 18 years or older for someone to ride with you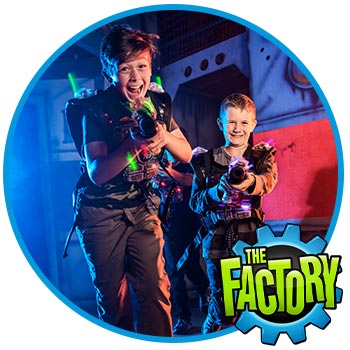 LASERFORCE LASER TAG
Laser Tag at The Factory is a sure way to Crank Up Your Fun. This is a fully-interactive game where two teams go head to head to see who's got what it takes to become laser tag champ. Fast-paced and exciting, this experience is all about being bold and daring – taking chances to zap your enemy without getting zapped by them first!
You must be 45″ tall to play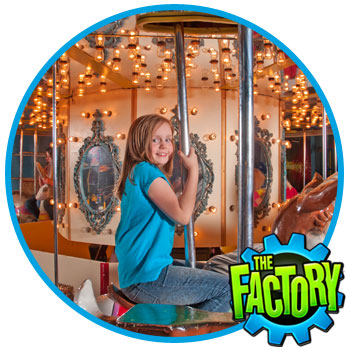 CAROUSEL
There's nothing more nostalgic than a carousel ride. Music fills the air and creates a fun-filled setting for all ages. Little ones are delighted to sit tall in the saddle and smiles abound as the carousel spins, spreading laughter to all on board.
Children under 36″ must ride with an adult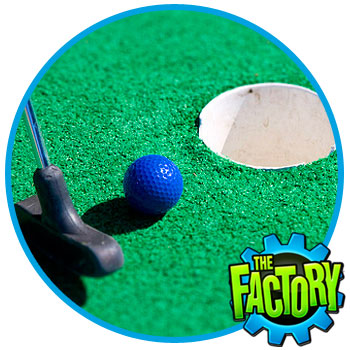 MINI GOLF
The Factory offers an exciting and challenging indoor course, so you can practice your putting no matter what the weather. The indoor course is nine holes and snakes through the center area of The Factory right near the Pizza Factory & Grill.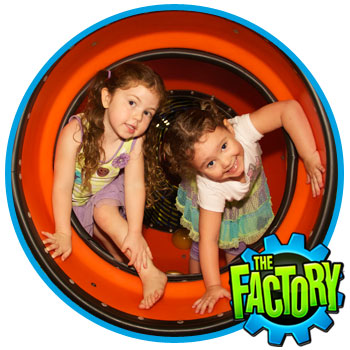 KIDS PLAY AREA
Even your littlest players can Crank Up Their Fun at The Factory! They'll love the Kids Play Area, giant inflatable slide, carousel, children's arcade games and more. You'll love it too, because our children's play area is separated from the rest of the action, which makes it easier for you to keep an eye on them.
Must be at least 36″ tall and under 54″ to enter the Kids Play Area/Inflatable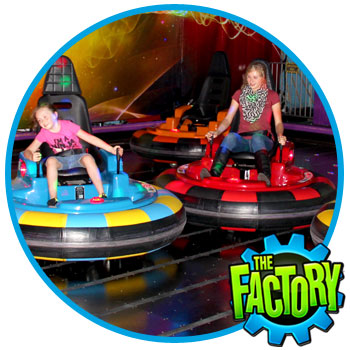 SPIN ZONE BUMPER CARS
Experience the fun of Bumper Cars at The Factory! Fun, Fun, Fun til' daddy takes your bumper cars away…Get driving and looking for trouble since it's the one time Dad won't take your keys away for driving into his car. Grab your friends and family and head to our bumper car track for a smashing good time!
You must be 5 years old and 42″ tall to drive
Children under 5 cannot ride bumper cars
PRICING
There is no admission charge to our facility. Simply charge up a re-loadable Fun Card to play games and attractions. You may charge any amount to the card and then swipe it at the games/attractions to play. The cost of the game will be debited from the card. Game Cards cannot be used for the Jump Factory.
Don't miss our Price List & Holiday Special
Kids Play Area (all day pass)