Teachers ~ Reward your students with Factory Coupons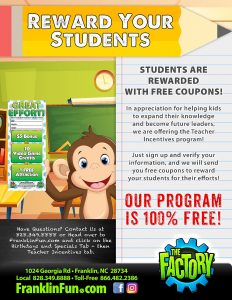 This FREE program is designed to help our local teachers who have given so much to our community by influencing and educating the next generation. You have not only invested in college for yourself but you also chose to work in our community and devote your time and attention to shaping the minds of our future community leaders.
As a token of appreciation we have started this reward program.
To sign up all we need is verification you work for a public school district or an accredited private school. To speed up the verification process please enter your school email address below. If you would prefer to use your personal email that is allowed but we will need additional verification info after you fill out the form below.
Rewarding your students has never been easier & more fun!
We promise not to sell or misuse your information. WE HATE SPAM TOO. We also promise never to share your information. You can always opt out of our program.